Hello again everyone! How are we all?
So, it's been a while….. my apologies! My excuse is that this last month has been extremely busy. I just haven't had the time to sit down and write about my exchange until now and I really do mean that literally! A lot has happened since my last blog post and I will try to recall some of the best moments I've had so far on my exchange.
Thankfully, I have been blessed with the ability to sleep almost anywhere in some of the most uncomfortable places. An ability that I did not take for granted on the 24 hour plane trip from Sydney to Stockholm. So, I can't complain about my travel experience. I had expected to feel scared and full of doubt on the plane trip, but to my surprise I didn't feel this way. I was certainly overwhelmed and nervous, VERY nervous, but this was mostly because I really wanted to make a good first impression. When I walked through the arrival gates of Stockholm Arlanda I had a big, bright welcome sign and smiling family waiting for me. I am very lucky to have such a lovely host family who immediately made me feel very comfortable and at ease.
May I just say, and you'll be hearing this a lot throughout this blog, Sweden is stunning. On the car trip from the airport everywhere we passed was covered in thick, fluffy, white snow. The sun was also out on the day of my arrival, so it's light would reflect and glisten off the snow cover. The view on that car trip felt very surreal to me, especially coming from the Australian 40 degree heat.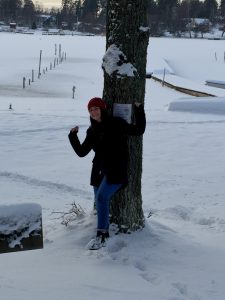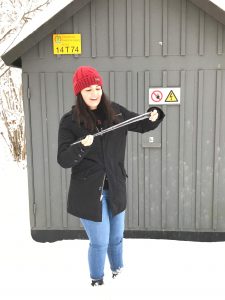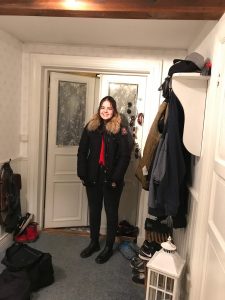 The weekend following my arrival I know was lovely, although it seems so long ago now I can't remember much of it. However I do remember that, the same day of my flight, I had my first Swedish 'fika' (defined as a concept in Swedish culture with the basic meaning "to have coffee", often accompanied with pastries, cookies or pie) which was absolutely fantastic! I have had a fika almost everyday since!
Then on Monday it was straight to school. At first I felt very out of place, people didn't really try to talk to me for the first few days, but then by the end of the week I felt as though I had made friends. The weekend following I went skiing with my host club and my aussie friend Jill which was also fantastic. The ski slopes here are very impressive!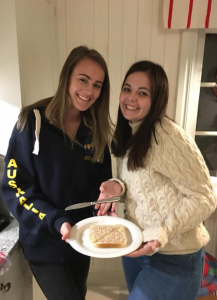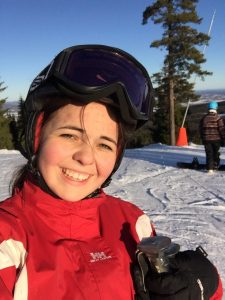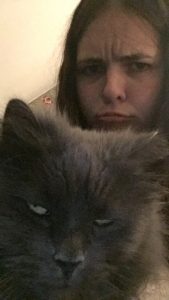 The following camp I went to Bollnäs for my language camp. It was so fun and also VERY cold! There were 12 of us, 9 of whom were aussies. It was really good to catch up with some of the students I had met on the plane trip over and talk about how our separate exchanges were going. During this camp I went snow boarding (which I was very bad at, but I persisted), we swam in an outdoor heated pool then rolled in the snow and back to the pool (which burned) and visited a recycling plant (which was very impressive and inspiring). We also visited the local high school at Bollnäs and got talking to other 'foreign to Sweden' students about their schooling experiences. On the last day we had a pizza and talent quest night where we ate and laughed a lot! It was one of the best nights.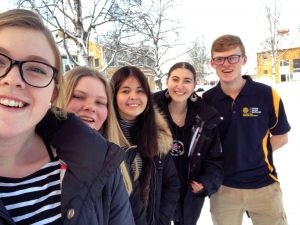 Since that week I have been back at school and joined the Eskilstuna girls floorball league. So far I'm terrible at it but we train 4 times a week so…. hopefully I'll be better by the end of the season.
So, that was January, summarised. I can't believe how fast that passed and how much happened. It was spectacular!
Till the end of February,
Jessica xxx